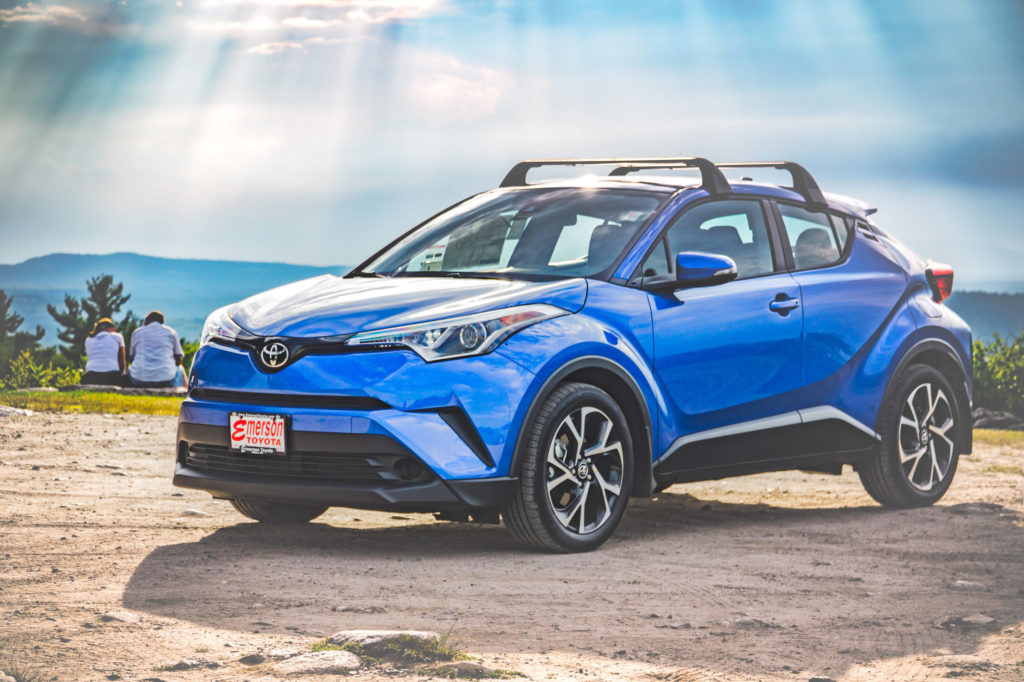 Throwing Conservative to the Wind
This vehicle was supplied by our good friends at Emerson Toyota. They always keep a good stock of these cars at their dealership in Auburn, Maine.
The C-HR falls into a newer category of vehicle, the subcompact crossover. Taking one look at this car is all you need to see how Toyota is clamoring to grab the attention of the eccentric demographic that seems to gravitate toward that body type. Toyota is apparently targeting singles and newly married millennials, and I think that it's a good demographic to go after.
So take a look at it. It's loud, it's proud, and it's a statement that the person behind the wheel is not quite the "normal", average consumer who's good to buy into a cardboard box with wheels. The C-HR certainly has a bit more spunk and glow about it than the average car, I can tell you that.
The C-HR succeeds the Matrix and the late Scion's xD to fill the shoes of the roomy, practical, car that so many active and on-the-go consumers are shopping for. And it does so quite well. Probably better than any Toyota before it. With nearly 6 inches of ground clearance, it comes dangerously close to an actual crossover or SUV of a higher class and price point, all while staying small enough to fit in with the likes of its smaller counterpart, the Corolla iM, which is basically a hatchback version of the Corolla. The aggressive stance and eccentric rear end that sports a cantilevered rear spoiler give it away as something that stands alone within the Toyota lineup.
Details, Details
C-HR stands for Coupe High Rider, which indicates Toyota's goal to essentially shape the angles of the body to resemble a coupe but remain a 4-door vehicle. The elevated rear door handles aren't there just to be different, they're there to be hidden and blend in with the rest of the panelling, thus resembling that coupe style. It's a neat idea and is fairly well executed, although perhaps making the experience in the backseat a bit blocked, offering about ¾ of a normal window. Maine scenery is best viewed from the front seats for sure, unless you don't mind leaning forward back there. As the driver, it doesn't necessarily create a dangerous blind spot, but the pillar placement did create the feeling that I had less visibility than when driving in my Corolla. Not the end of the world, but definitely worth paying attention to on your test drive if this is going to be a deal breaker to you.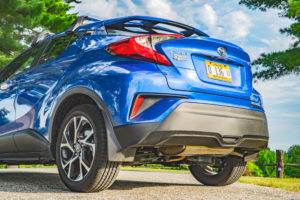 Gas mileage is a little bit lower than I expected from a newer Toyota of this size, it sits around 29 mpg combined. I thought maybe this would mean it's all-wheel-drive like the Rav4, but no, the C-HR is a front-wheel drive car. Still pretty decent, and I don't think the C-HR is really meant for the ultra-miler who isn't interested in some spirited driving every now and then.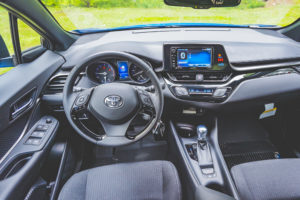 Speaking of spirited driving, handling is excellent in the C-HR. The suspension really feels like it's tuned to a standard that is much much higher than average. And that's all thanks to the newly developed MacPherson strut front suspension with SACHS dampers, featuring angled strut bearings and a large-diameter stabilizer bar to help the C-HR's front end respond quickly and precisely. At the rear, a double-wishbone suspension utilizes the SACHS shock absorbers with urethane upper supports. All these things are a first for Toyota. And the R&D has paid off. It's a suspension you can count on, whether you're in town or on a long and windy Maine road, to perform in such a way that it never feels like you're crossing a line between safe and over-the-top cornering, all while staying very comfortable on bumpy Androscoggin County roads. I was impressed by this many times when attempting to push it to its limits on the open road.
For the back half of my journey with the C-HR, I defaulted to one of the three driving modes (Eco, Normal, and Sport mode). Of course I chose Sport mode. And I must say I was surprised by it. In the C-HR it feels like an actual tune to the entire motor and not just a change to the transmission gearing, and performance is higher that what you'd think is possible in a 144 horsepower 4-cylinder crossover. It's a zippy little car! Things absolutely sharpened to a more responsive, lively throttle, living up to its "Sport" description. And it actually sounded pretty good too.
It's very strange, though, that it features a CVT transmission but also allows you to manually shift through 7 gears. They're "virtual" gears, mind you, but they still give the car a feel like the old days when you actually had to shift gears to go faster. It's strange, but at least Toyota included it for people like me that want to pretend I'm still driving a car that has actual gears still. As for the manual Sequential Shiftmatic Mode (basically a tiptronic system), it's very responsive and nearly instant that it "changes virtual gears" when you push up or down on the shifter.
The C-HR excels in another area, that of its utilitarian focus. The all-weather mats in the one I was driving were very stylish and covered the carpet very nicely. The roof rack cross bars in the style of Thule's aeroblades are extra good looking and makes this the perfect car to load a couple of kayaks or bikes on top. Standing at just under 5'2", it should be much easier to load these types of toys than, say, a Rav4 or the like. The rear seats split 60/40 making it very easy to carry 3 or 4 passengers while still hauling long items, a very practical if not obvious choice.
Technology is Not So Entry-Level Anymore
You might think that Toyota wouldn't include much in a vehicle like this in the way of gadgets, gizmos, bells, or whistles. And you'd be wrong. The C-HR is packed with all sorts of goodies that give drivers comfort, convenience, and safety. The Standard options are quite flavorful, such as the standard pre-collision system, standard lane departure alerts with steering assist, standard automatic high beams, and standard dynamic radar cruise control. All worked pretty well too, except the lane departure got a bit annoying over time and the steering assist was occasionally late and therefore mildly inconsistent. But to most who aren't testing this to its limits it will help just fine and will be a welcome feature to parents with teenage drivers. The pre-collision system is really great for if you take your eyes off the road in a traffic situation; a loud alarm will sound if you're driving into a stopped car and the brakes will automatically apply in certain situations. Excellent for those who still have trouble putting their phone away while behind the wheel. I loved the auto high beams, but I didn't necessarily like how they automatically turn off when under a certain speed. I have a very long driveway, and I just wanted them on each time I drove it. That requires disabling the auto feature. Not the end of the world but noticeable.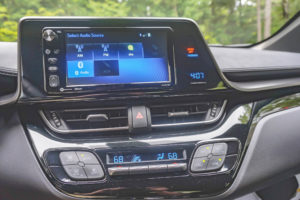 Another surprise that comes standard in this crossover is the dual zone climate control. In a sub – $30k car! That's exceptional for a vehicle of this caliber, and it makes the C-HR a great choice for couples who enjoy road trips up the Maine coast together. Also featured as a standard is an auto dimming rearview mirror with an integrated backup camera. Really nice to see this becoming standard in cars today. Bluetooth audio is another standard feature that worked well, despite the fact that it consistently played from my pocket for the first 5 seconds and then later played through the stereo. I'm sure this will be fixed in a future update, something that seems to be a very easy process through the media display.
All in all, I enjoyed my time with the Toyota C-HR. I was able to drive it in many different day to day activities and got a good feel of what it can do. It's not perfect and it's certainly not for everyone, but it's a great choice for a number of people that are active and on-the-go by nature, or maybe just like making a statement when they cruise around town. And some families will be drawn to it as a complete package, while not stretching into soccer-mom-mobile territory. Is it for me? No, not really. And that's ok, there are many other great options out there for me. This one is worth checking out for sure, if you're in the market for practicality and a little fun.