Pape Subaru of South Portland Maine was kind enough to let us borrow this car for a few hours to get an in-depth look at what their brand is offering in this model for 2017. And when it comes to stocking inventory, they have Portland Maine covered well.
Fun, Fun, and Oh Did I Mention Fun?
I fondly remember seeing the WRX concept at the April 2013 NYC Auto Show, which featured some pretty substantial design changes. This design would never make it to full production, but like many concept cars, there were several features that did make it into production. 2 years later, cue in the all new 2015 WRX, and while it isn't anywhere near as bonkers looking as the concept, it's apparent that Subaru took a lot of inspiration from it when designing the official production model. From the eagle eye LED strip lighting in the headlights, to the rear diffuser and tailpipe placement, it reminds me of that eye-melting concept of 2013 every time I see a new WRX on the road, and in Maine that's pretty much an every day occurrence. It truly looks stunning at all angles, and it's a car that you can tell is ready to get out there and do work, just by looking at it.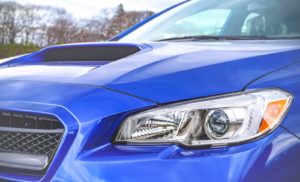 First things first, what does it feel like sitting in a 2017 WRX. I would sum it up in one word, tight…and undoubtedly this will initially give most readers the impression that I'm a 6 foot tall guy who struggled to fit his appendages in the cabin comfortably. But they'd be wrong. What I'm referring to is how tight the vehicle itself feels, how efficiently placed all of the components are within the cabin to make for a very comfortable range of motion between your points of contact. The shifter is not too far away or too high or low, the pedals aren't too distant or in an uncomfortable position, and the steering wheel required no adjustment for me when I first stepped into the vehicle. So, essentially my engagement of the primary touch points that actually drive the vehicle fit like a glove and made me feel like I was ready to pilot this thing like a fighter jet. That's a win for Subaru. A car like this should feel good to drive.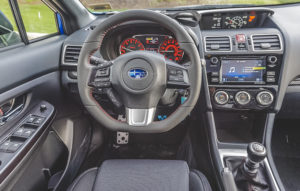 How does this year's iteration stack up against last year's? Well, frankly, not very much has changed. It still has the same 268 horsepower 2.0-liter turbo boxer engine, same suspension, same brakes, pretty much the same everything. There are a few nice additional available options added in this year though, such as blind spot detection and rear cross-traffic alert, new for 2017. All WRXs are getting the "nicer" headliner previously only spec'd on the higher trims. And, finally, one-touch windows for both front doors are also new. So ultimately it's nothing drastic, but it's worth noting the continued safety focus Subaru is putting into their production.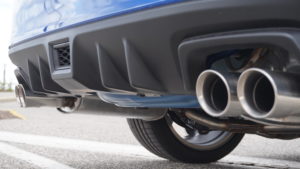 2017 Subaru Impreza WRX dashboard steering wheelNow, on to the meat and potatoes. What does it feel like to drive? Is it fast? And, most importantly, is it FUN to drive? Yes, yes the WRX is fun to drive. But it's a little bit more than just "fun". That adjective applies to many cars out there that just happen to have a little "zip" to them. This is more, so much more. Immediately out of the gate you can tell that there are things happening under the hood more than just cylinder combustion. And the fact that this is obvious so immediately is quite impressive.Yes, it's fast. But the odd question in my mind going into this wasn't really "how fast is it?", which is subjective. What I was asking was "what kind of fast is it?"
Ready For Some Serious "Consumer-Friendly" Action
Full disclosure, I went into this being very accustomed to much more than 268 bhp, as my similarly turbocharged daily driver sits very close to 400. So I expected to be ultimately underwhelmed going into this drive. But what impressed me so much about this car is how it's tuned to boost so early in the gear. It genuinely felt like the turbo was continuously spooled up, much like what I imagine the new Ford GT's Sport Mode Anti-Lag feature feels like (obviously way cooler, I know). With every goose of the gleefully sensitive throttle, I was able to harness 14-16 PSI of turbocharged boost with terrific ease. However, I did find the torque fell off quicker than I would've liked, around 5000 RPM. But this is a tradeoff. If you want big power and lasting torque, you need a bigger, badder turbo, which means you get more turbo lag and less responsiveness. So in this case, I wasn't really able to make up my mind which scenario makes me happier. I just know I really, really enjoyed how easy it was to engage with the turbo and feel myself pushed back in my seat. And that's what kind of fast it is. Instant and satisfying.
The redeeming factor to lower power and torque is that this continues to be a perfect platform for those who would like to modify, tune, and push the 2.0 liter boxer to its limits. Things can be changed, and relatively cheaply and easily. Like the exhaust, for instance. It's so quiet! Way, way quieter than I prefer in a car like this. And that's going to appeal to some that just don't want anything obnoxious but still wanna go fast. This is just Subaru being consumer-friendly. And boy can it be changed out easily. Knowing this makes it all the more impressive that it's starting off so strong in the game, so capable without sacrificing smoothness for the average buyer and allowing for a very common vehicle point of entry.
This will no doubt incite newcomers to the platform to chase that feeling of speed, while satisfying those who are looking for something somewhat "normal" to zoom around in quickly… with exactly that. It's the simplest point of entry into above-average acceleration and speed for a vehicle in this category that I've ever experienced. I think Subaru will continue to hold that title for years to come, and it's no surprise considering their pedigree. This tuner car truly makes for some fast paced, "consumer-friendly", action. Those looking for something with which they can destroy rubber, create giant white smoke clouds, or reach blisteringly high speeds should definitely look elsewhere and journey there with deeper pockets. This car meets the needs and the wants of the many, doing so in a way that both dignifies speed enthusiasts and warmly invites any average driver who likes the idea of highway merging in a more effortless fashion.
Classical Sport
So, acceleration and responsiveness is a dream. What about the rest of it? Actually driving it. Let's start with the 1-2-3-4-5-6-R portion first. I gotta say, that this has to be one of my all-time favorite shifters. It's fantastic. The throw between gears is perfectly measured out, not too long, and definitely not too short. It feels eager to get into the next gear and get you moving along even quicker. The knob itself is exceptionally ergonomic. Reverse is easy to get in and out of (a sharp contrast with Subarus of a decade ago). The shift boot is classically squared and stitched the way a shift boot should be, matching the steering wheel and elegantly blending in with the interior theme while maintaining its own unique sporty contribution.
Shifting is hardly the only thing that matters when driving this car, and it certainly isn't the only thing that stands out. Cornering. Cornering. Cornering. What a blast. It's extraordinary for a car that is listed for under $30,000. Every time I was able to downshift and push through a corner, it just gripped forever. No doubt this was assisted by the Dunlop Sport Maxx RT™ tires, but so much has to do with the suspension itself. I paid close attention to whether or not the typical bumps in the Maine roads ever felt noticeable, and yes, the suspension is stiffer than average. But absolutely not uncomfortable even in the slightest. It was a near perfect marriage of comfort and stability, and I couldn't have been more happy with what I found.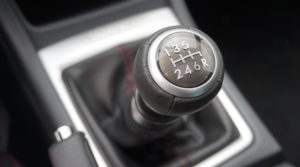 That pretty much covers everything I was looking for in this car. It's a real gem. And many will say it's just a glorified grocery getter. And they'd be right…in a certain way. You can certainly go get groceries in this car! Why not? I would. But me sitting in that driver's seat and cranking out the boost is sure to offer some real excitement for the carrots and peas sitting in my back seat, and they are sure to be continuously pressed safely against the seat as long as I'm having my fun on the road. There's no question in my mind that this car is one that any driver out there can have fun with. And if you're interested in even more serious power than what it offers out of the factory, I think you should still consider this vehicle. There is a great number of things that can be done with it to enjoy it even more. Tuning has come a long way with this platform, and gone are the days where you would have to sell a kidney to eke out a measly extra 30 horsepower. This year's edition of the Impreza WRX has my stamp of approval and I'm excited to see what next year has to offer.